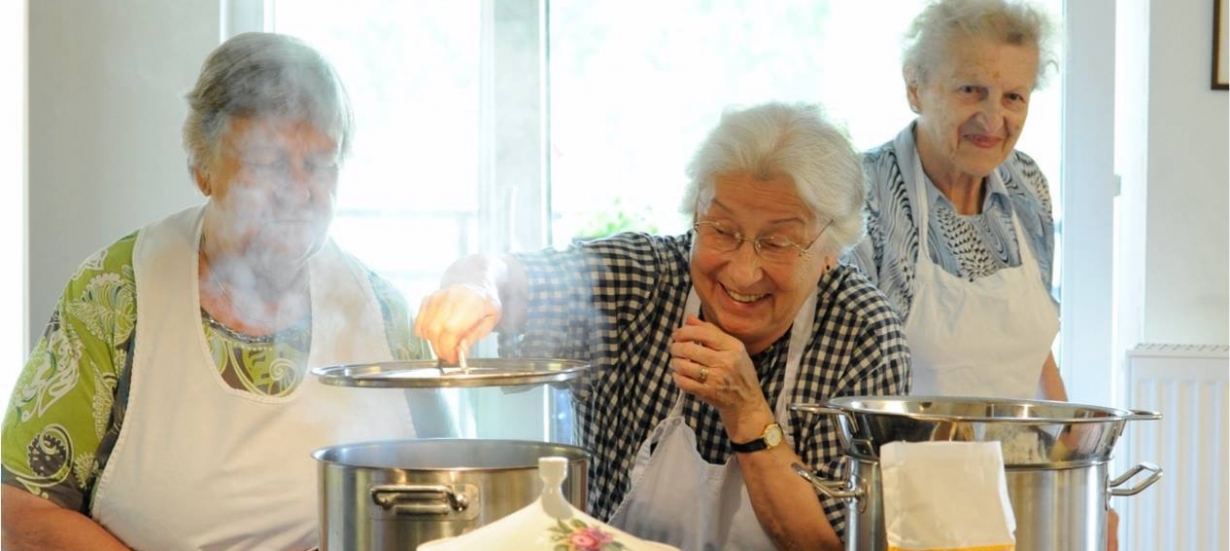 Cookbook "Wir haben einfach gekocht"
An innovative, emotional and wonderful format of communication for an important issue
Nowadays, eating in retirement homes is mainly considered a cost factor. But food is so much more, especially for old people. It structures the day. Often meals are the highlight. Food is memory and food is home.
We have taken on a journey to retirement homes in Germany to talk about the culinary memories of the elderly people, write down favorite recipes from the past, and cook together. All our expectations were exceeded. We laughed a lot, talk shop about cooking methods, and learned wonderful recipes and practical kitchen tricks. What we had not expected was the great joy of cooking itself. It is, unfortunately, not the rule to let the elderly cook for themselves in the nursing homes. But in the places visited, everyone quickly agreed that one could do this more often, cook and then eat together.
The book project was made possible with the support of the Coop Sustainability Fund and Transgourmet Germany. The idea for the book was a result of the many discussions with Transgourmet and the question of how Transgourmet could engage socially, going beyond its corporate sustainability measures done at that given point. Coop (Switzerland) is one of the most sustainable trade companies in the world. Transgourmet is a 100% subsidiary.
With the book we would like to preserve culinary memories but also trigger a public debate about the important role of food as an emotional factor for the elderly.
www.wir-haben-einfach-gekocht.de
www.facebook.com/wirhabeneinfachgekocht
"What an idea: For once asking the true experts for the German kitchen, to cook and celebrate." (engl. translation)
"Was für eine Idee: Einmal die wahren Experten für deutsche Küche treffen, mit ihnen zusammen kochen und feiern."
"Old and young cook emotions awake" (engl. translation)
"Alt und Jung kochen Gefühle wach"
"A moving culinary time travel" (engl. translation)
"Eine anrührende geschmackliche Zeitreise"